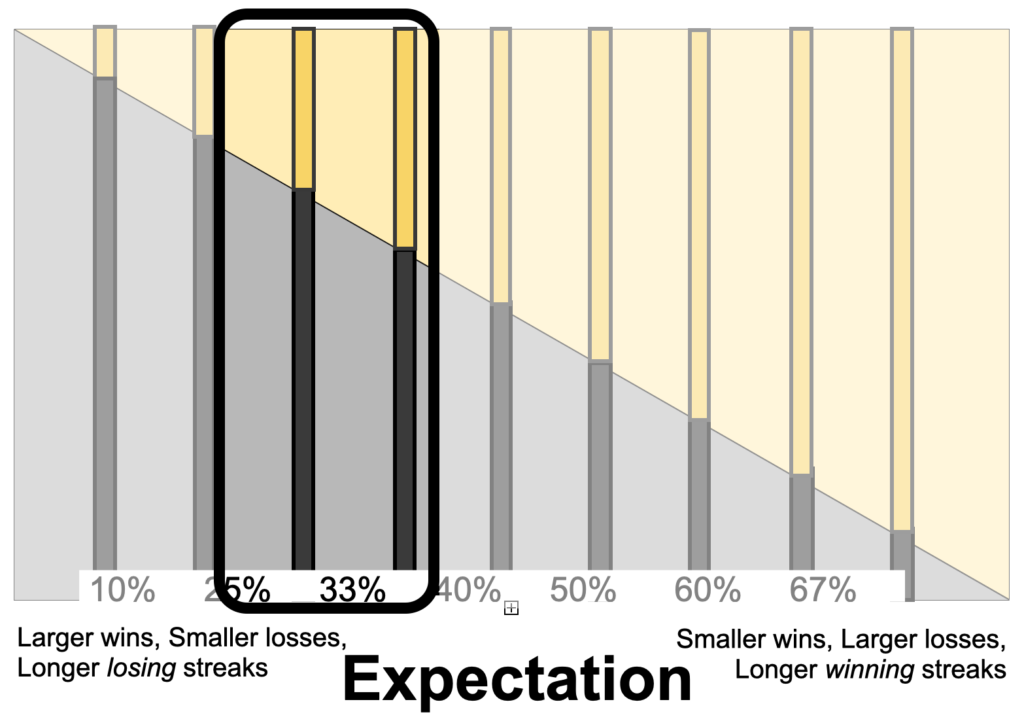 You like to go all in. You don't take rejection personally. You understand that many, quick rejections are just a way of uncovering those big opportunities that are so exciting. You're used to operating under the philosophy that you "eat what you kill." You're okay with the market tradeoff of having many losses (which you cut short) so you can have the really big winners. Most people aren't emotionally equipped to handle so many losses…but you are.
What follows is a more detailed analysis of how you can best make the markets work for you:
Risk Characteristics:
Take many small, well-defined risks to achieve a few larger profits.
Profit expectations:
Two to four times larger (or more) than the risks taken
Win rate:
35% to 45%
Typical preferred trading time frame:
Shorter to intermediate term depending on the equity type traded. From a few minutes to a few days for futures, forex or shorter term options to several weeks or even a few months with stocks or longer term equities.
Probability of success:
High, assuming you can remain unemotional as you endure a high percentage of losing trades, maintain this system for at least one year, and the market retains its normal (or increasing) volatility. This trading style needs movement in the markets for success.
Defining Characteristics:
Unemotional, decisive, disciplined, focused on the long-view, thoughtful, good with numbers.
Additional Characteristics:
Likes competing against others. Enjoys the challenge of measuring their accomplishments against others. Enjoys nature, but will also be highly fascinated when observing the peculiar and specific behavior of a variety of plants or species of animal. Enjoys relationships with others and can be highly tolerant of close friends or loved ones. May be willing to try new food if it has a chance of producing an unusually high-quality experience, but otherwise prefers certain foods known to have satisfied in the past. Careful not to overpay for things. Can be generous with others once they have their own needs met.
Best Bullish Strategies in a normal or rising volatility market:
Call Options
Bull Call Verticals
Call Diagonals
NOTE: It's possible to use the same strategy across all three Natural Trading Styles, though each strategy would be implemented in unique ways which are more congruent to the natural trading style.
You bring a rich background of experience to your trading which can support or sabotage your efforts to be consistently profitable. Understanding the statistical probabilities of your Natural Trading Style gives you a basic plan for trading the markets in a consistently profitable and repeatable way. Your Natural Trading Style gives you an expectation about your base winning percentage and suggests strategies and tactics you can employ to improve your results and profits. Because your base winning percentage is based on mathematical probabilities, you can remain confident in your market approach regardless of individual trade outcomes.
In his article, Why Talent Is Over Rated, Geoff Colvin writes, "The best performers set goals that are not about the outcome but rather about the process of reaching the outcome." As traders, our goal is profit. Poor traders focus on the outcome of individual trades despite knowing they can't win every trade nor capture the entire move. Traders who make consistent profits focus instead on the process of trading. They have a trade plan which they carefully follow for every trade. They keep their eyes focused on the expected annual rate of return. And they don't let the emotions of fear or greed whipsaw them into or out of trades at the exact wrong time.
Developing your skills as a trader, similar to developing your skills in your profession takes time, effort, and a serious commitment to achieving the highest level of success you can so as to achieve the richest returns. Other areas of learning and focus in our additional Natural Trading Styles: Foundations course are:
Natural Trading Styles: Comprehensive explanation
Finding Your Edge: Simple tactics to improve your base winning percentage
Opportunities with Options: Using options to make money in all market conditions
Creating Your Trade Plan: Tracking results to improve profits
Trading Real Money Part 1: Making the transition from paper trading to real money trading
Trading Real Money Part 2: Following your plan as a routine process to improve consistency of profits